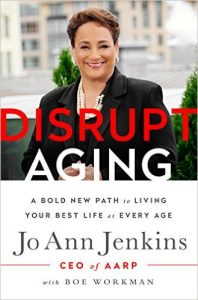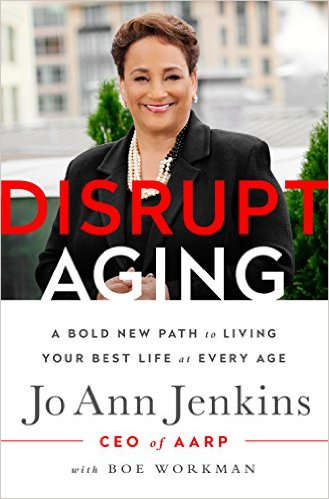 Disrupt Aging: A Bold New Path to Living Your Best Life at Every Age by Jo Ann Jenkins
Before I step into my concerns I want to be very clear about something: this is an excellent book.
The concept of what it means to "age" is rapidly changing. To quote the book:
Today most of us enjoy better health and a longer life than the wealthiest people in the wealthiest countries did just a century ago.
That's an understatement. Life expectancy is close to doubling what it once was.
What this means that that we need to revisit what impact that longer life expectancy will have on each of us as aging individuals, as well as on all aspects of society.
Disrupt Aging tackles important topics ranging from our own identities as we age, to the practical matters of health care and preparation, financial care and preparation, and more.
It's an important book and I encourage all to read it, think about it, and discuss it with others.
But because it is an important book, that it missed and almost misrepresents a topic I care deeply about, I have to share at least one reservation.
Unfortunately exactly how seniors are interacting with modern technology is, in my opinion, glossed over with an overly rosy view.
The darker side of technology and aging
In my role as a provider of consumer-level technical support I hear from a broad cross section of the population.
As it turns out my audience is heavily weighted to the "over fifty" crowd – the very audience that Ms. Jenkins discusses in her book; the very audience that is AARP. I'd estimate that fully two thirds of the million visitors to askleo.com each month meet this criteria.
Based on what I hear almost every day, when it comes to technology things are not quite as rosy as Ms. Jenkins would portray.
Even though those of us over fifty are often perceived to be technophobic, we are the first adult tech-savvy generation. We grew up inspired by technology.
Sometimes the perception accurately reflects reality, more than we might hope for.
While we may be the first "adult tech-savvy generation", and while we might be "inspired" by it, the characterization implies significantly more comfort with technology than I experience in the correspondence I see almost daily.
While a large portion certainly are tech-savvy and happy to embrace the technologies of the day, (I certainly count myself as part of that group), there are many more that are merely tech-tolerant at best. In fact, I'd go so far to say that significant portions of the population would be more accurately classified as "tech-wary" or even "tech-frustrated".
And yes, naturally, there is a large portion that for a variety of reasons end up quite accurately being classified as technophobic.
And all those portions are simply too large.
We shouldn't let the fact that there are many who embrace technology blind us to the fact that there are significant numbers who do not, or can not.
Technology is becoming too important.
Barriers to acceptance
Whenever I ask about what aspects of technology cause the most grief, there's a single, common thread that comes back.
Change.
For some, it's the sheer pace of change and the difficulty keeping up with it all. For some it's that there's any change at all. In both cases I counsel that change is an important part of what's brought us the many marvels we now take for granted. Perhaps more importantly it's not going to stop, and as a result a better approach might be to change how we view change; taking a position of acceptance, choice, and growth rather than frustrated resistance.
However a subset of change resistance isn't alleviated by a change in personal mind set. That resistance is due very simply to not understanding the benefits of a particular change. Not understanding the "why" is, perhaps, the single biggest obstacle to accepting the change we're faced with.
"Change for the sake of change" is a phase I hear often, and not in a positive context. "What I had before worked, and now it doesn't" is a common refrain. "Why did they change something that was working just fine?" usually follows.
Even though we might not agree with it, simply understanding why change is happening at an accessible and understandable level is sometimes enough to remove stubborn walls of resistance.
Unfortunately understanding otherwise inexplicable change isn't the only barrier.
For one example, current trends in design seem to favor low contrast color schemes, posing a problem to those with even moderately aging eyesight. All too often alternatives are buried, if present at all. Often the only option is an exceptionally harsh high-contrast approach designed for the severely sight impaired that's simply overkill when something as simple as a slightly larger font or different color choice might make all the difference.
Another example: smooth touch screens require an amount of fine motor skills that, quite honestly, sometimes evades even the most agile. Add any kind of essential tremor to the equation and an entire class of devices falls into a category of complete uselessness.
Finally, much of today's technology makes the assumption that most will learn by using or experimenting, and come with little to no reference documentation or resources for assistance in plain English. Not everyone learns the same way, particularly those who were brought up on a lifetime's experience of being able to reference resources at hand. Unfamiliar ways of approaching technology without any assistance at all pose a critical barrier to even getting started.
The list goes on.
The importance can't be overstated
According to one study, in 2014 96 percent of Americans with Internet access used it to look up health information.
Part of that I'm sure is convenience. To those connected and comfortable there's a wealth of information just a few keystrokes away.
More troubling is that there are now vast amounts of information – often critical information – that are now pragmatically provided only online or using some form of newer technology.
The ability to access and interact with modern technologies is no longer a luxury, it's a requirement. A requirement that, if not met, can have dramatic impact on an individual's ability to connect with others, access important services, and in the worst case can have serious implications for fundamental health and wellbeing.
My personal aspiration is to empower individuals to embrace what technology has to offer. I want people to be able to do more, be more, and connect more, using all the opportunities today's personal technology presents.
Anything less and even larger segments of our aging population will become disconnected and disenfranchised.
We need to do everything we can to make sure that doesn't happen.
A way out
Three things need to happen.
First, we need to raise awareness that all is not as smooth as might thing when it comes to technology and our aging population. This is the opportunity missed by Disrupt Aging, and to some degree AARP as a whole.
Second, we need to lobby the technology providers and manufacturers to do more than just pay lip service to the importance of an aging populace, but actually design their products with that in mind. It might be as simple as providing additional options for different limitations, or it might be as simple as providing instructions rather than assuming that anything is easy to pick up by experimentation. It might be as simple as explaining "why". AARP, specifically, is in a unique position to spearhead this discussion.
Finally, we need to support all users of technology, regardless of age, with information, resources, educational opportunities and more so that they can fully make use all of the opportunities available. This is where I spend much of my time, trying to explain or translate into plain English missing or otherwise complex instructions.
A crisis of confidence
What it all boils down to, in a word, is confidence.
Too many are left feeling anything but confident when it comes to technology.
By implying that the majority of seniors are tech savvy and comfortable with technology, and ignoring the vast numbers who are not, Disrupt Aging may contribute to this aspect of the problem. By not acknowledging their discomfort with technology many will be left feeling that it's their own fault for not keeping up.
It's not.
What I believe
It's an exciting time to be alive.
I don't want anyone to be left behind.
From the Ask Leo! about page:
I believe personal technology is key to humanity's future. It has an amazing potential to empower individuals.
But it can also frustrate and intimidate.
I want to make technology work for you.
I want to replace that frustration and intimidation
with the amazement and wonder that I feel every day.
I want it to be a resource rather than a roadblock;
a valuable tool instead of a source of irritation.
I want personal technology to empower you so you can be a part of that amazing future.
I just want it to work, for you.
Particularly my peers in that over-50 crowd.