Veterans day has always made me a little uneasy. It wasn't until recently that I finally put my finger on it.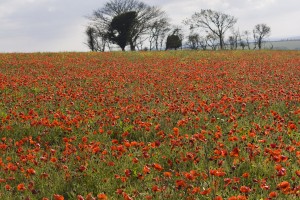 To be clear, it's not the result of some overly sensitive "we shouldn't celebrate war" kind of thinking. While at my core I'll admit to being more of a Start Trek "one planet, one people" kind of person, I acknowledge that war has shaped our planet in important ways and that we owe a tremendous debt of gratitude to those who fought and continue to fight for our rights and freedoms.
It's just that I'm feeling a little left out.
My late father fought in World War II. My understanding is that he was in the army for a time. With his brother was even captured by – and escaped from – the Nazis.
But he was, of course, in the Dutch army.
Now, maybe there's an appropriate veterans day celebration going on in Holland today, I don't know. My parents left in 1952 and eventually landed here in the United States.
Veterans Day in the U.S. is decidedly a very patriotic and U.S. Armed Forces centric celebration. And as I said, I don't want to take away from that at all. Not only do we in the U.S. owe our servicemen and women a debt of gratitude for our freedom, but Europe, and Holland specifically owe an even deeper thanks.
But still, it does leave me feeling a little left out.
Where are the thank-yous for the people like my father? He fought for the same principles and ideals that we celebrate today. For him it was even more personal, as it was his country that was overrun and occupied, eventually to be freed by Canadian and U.S. forces.
And again, his country, and I, are eternally grateful for that freedom and the U.S.'s role in bringing it about. But in some ways his personal contribution to that effort seems lost on days like today.
The U.S. is a land of immigrants, some more recent than others, of course. But it is those people from around the world that have made it what it is today.
I have to believe that my father is not alone. I'm sure that there are many who have served, perhaps in the service of other countries, who now live in the United States. Individuals who fought for the same freedoms we embrace, and often right along side U.S. armed forces.
Do they deserve our thanks? I think they do.
Yet …
Perhaps I'm just looking at it wrong.
Perhaps Veteran's Day really is country-specific. Perhaps it really us a U.S. holiday here to celebrate only those who served in the U.S. military. I can understand that, I guess. Perhaps one of the costs of leaving your homeland is missing out on the gratitude that you may be due.
But on behalf of my father, I feel a little left out. Not that he would have wanted it, but some kind of recognition for his service would have been … nice.
So absolutely I thank veterans everywhere for their service and sacrifice.
All of them.