One year ago I made a decision.
A decision to do something that, in the past, I truly believed was impossible for me to do.
And yet here I am.
As I outlined in The 80% Solution, one year ago I decided to lose weight. For a variety of reasons outlined in that post, I decided to do something.
This screenshot represents the result: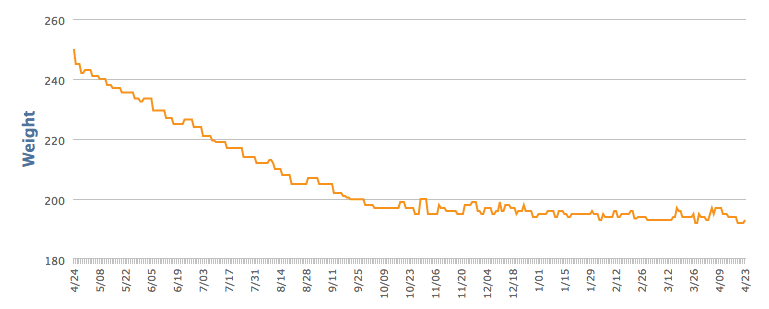 The start of that scale is 250lbs. I weighed in this morning at 193lbs after crossing the 200lb "goal line" back in September. And I crossed it exactly once.
It's been … weird.
I feel the same. Seriously, I don't feel "lighter" or more energetic than before, which is something that surprises me as well as everyone who seems to expect it of me.
I've been consciously working on changing my diet – slowly. The biggest change, perhaps, is that I'm actively seeking out vegetables that I can either endure or hide. ("Love" is apparently an impractical goal.) Spinach is an easy thing to hide in just about anything, the winter squash family is becoming quite interesting (spaghetti, butternut and acorn), as is roasting things like green beans, fresh asparagus and other things. Steaming cauliflower works. My tastes – or my tolerances – seem to be changing somewhat.
My exercise regimen hasn't changed much at all. I try to hit the elliptical 4-5 times a week for 45 minutes at a shot. But I've been doing that for years.
I find I have to remain constantly vigilant. I'm still tracking my calories – mostly. I'd love to eat more, and more poorly, but this forces awareness and a type of mindfulness about what I eat that I think is critical to long term success.
We'll talk again on September 21 – the one year anniversary of crossing the goal line.