[
I was asked once again to speak at the spring luncheon for Providence Marianwood, the long term care facility at which my father lived for his last 4.5 years. The keynote speaker for the luncheon was Robert Fulghum. I was also preceded by Gene Muren, whose wife Debra is a resident of the same wing that my father had been on, and who suffers from early-onset Alzheimer's. Debra was diagnosed at the age of 46.
]
I want to thank Gene as well for sharing his poem and story. Debra's a familiar face to those of us who've spent any time in the Alzheimer's wing. I also have to echo Gene's characterization of the experience as both educational, and humbling.
Some of you might recognize me, since I've been here twice before telling my parents story. I'm here today in part to bring that story to a close, and share something I recently realized.
Before I do, though, I want you to take a moment and think about the word "home". What images, what memories, what feelings does that word – home – bring to mind for you?
•
I'm the only child of what I've come to characterize as two fiercely independent Dutch immigrants.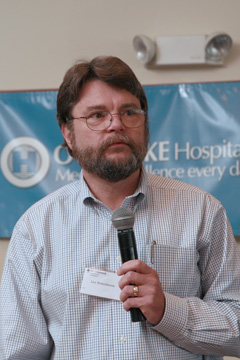 When my father was diagnosed with Alzheimer's my mother viewed it as her responsibility to care for him – at home – until he no longer recognized her. You know that caring for a spouse with Alzheimer's is about as stressful a job as you can imagine, and it took its inevitable toll on my mom's health.
As she declined we made the difficult decision to find alternate arrangements for my dad. He spent several months in an assisted living facility, Sunrise of Bellevue, until he fell and broke his hip. (Fiercely independent apparently, among other things, means not always using a walker when you should.) Skilled nursing care was called for and we arrived at Providence Marianwood.
A phrase that I've used both times I've spoken here before is that my father was "content" at Marianwood. That's big. In fact, I can't tell you just how big that was. In my mom's last days it allowed she and I great comfort, such that I could help her knowing that my father was not just safe and well cared for, but content.
My mother passed away – at home – a week before mother's day, 6 years ago last week.
•
Alzheimer's spared him reliving my mother's death, and my father remained safe, exceptionally well cared for – and quite content – for the next four and half years.
As the child of an elderly resident there is a phone call that you know is coming. You don't know when, but you know that it's a call that you expect, and that you dread.
A little over a year and a half ago we got the call.
My wife Kathy and I packed up ourselves and our three dogs – frequent visitors to Marianwood, and these luncheons, themselves – and spent the last 24 hours of my father's life with him, in his room.
As I was there that night with my father I watched the activity around us. I watched the nurses and aids come in periodically to see not only if my father was comfortable, but also asking if we – including the dogs – were doing OK as well. I watched the other residents, many of them, like Debra, familiar faces by now, go to bed, get up, eat their meals and live their own comfortable lives in safety and in comfort.
It wasn't until much later that I realized something very important.
While we might want to stay "at home" – perhaps even die "at home" – home isn't a building. Home is where you're surrounded by people who love you and people that honestly and truly care about your comfort and well being.
Home is where you're content.
Even as you lay dying.
My father may have died in a building labeled Providence Marianwood.
But – like my mother – my father died at home.
And for that, I am eternally grateful to the people that work in a building labeled Providence Marianwood and turned it into his home.
•
My parents and I have been incredibly fortunate in many, many ways. Finding Providence Marianwood was just one. Not needing to rely on Medicaid or other assistance was another.
Not everyone is so fortunate.
I was surprised to read that nearly half of Marianwood residents have no longer have the financial resources to cover their care. And as we all know, Medicaid supplements simply do not cover the true cost of long term care.
I was once told by a Marianwood staffer that "we don't kick people out when they run out of money".
Indeed. You don't kick people out of their home.
And yet, that money has to come from somewhere.
That's where you, and I and the Providence Marianwood Foundation come in.
And it's why we're here today.
We're here today to show our support – yep, with cold hard cash – though I'm sure checks and credit cards will do too.
We're here today to help Marianwood continue to be a place where the people who live here are surrounded by people that honestly and truly care about their comfort and well being, and have the resources to do it.
We're here today to help Marianwood continue to be people's home.
In the past I've challenged you not just to double your donation, but to add a zero to it, since that's so much easier. And absolutely, I honestly hope that at least a couple of you here today will do exactly that.
But I also know that the economy is, well … the economy.
But I need you to remember that it affects all of us – donors, residents and even Marianwood itself. In fact, the very reason you consider not increasing your donation is the very reason we absolutely need you to.
So I'll going to challenge you – right here and now – to tear up that pre-written check you came in with ('cause I know many of you did), or tear up the idea you had coming in, and write a new check for exactly twice the original amount. And further – fill in that card pledging to donate that same larger amount sometime during, or over the course of the next year.
I can tell you first hand the incredible impact that Marianwood has on people's lives … not just their residents, but friends and family – like me – as well.
And I can also tell you that you can have an incredible impact on Marianwood's ability to be the wonderful, loving and caring home that it is.
Thank you.