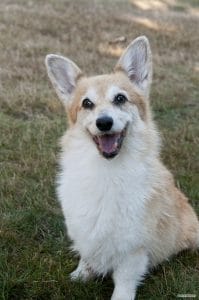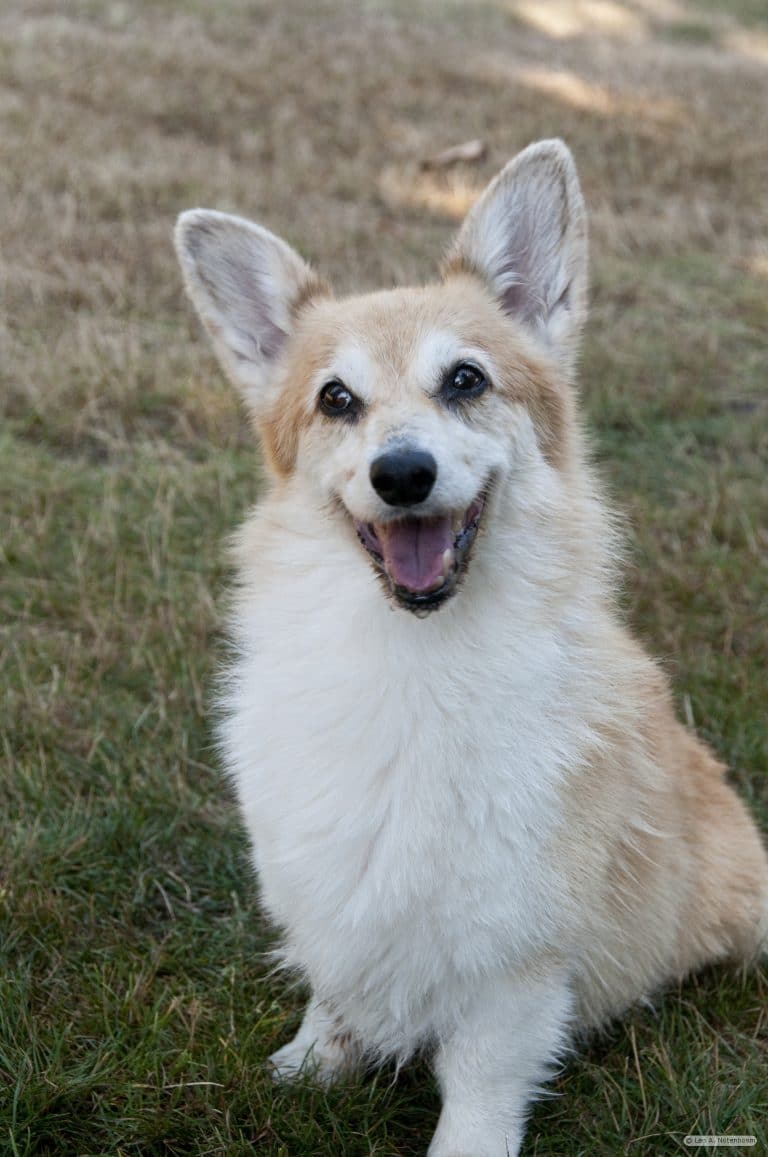 Helen was a special dog, in more ways than most people imagine.
Not long after birth in 1999 Helen was diagnosed as completely blind. As she grew that evaluation turned out not to be 100% accurate as her vision appeared to improve as she got a little older. In fact, as an adult most people would be completely unaware of her eyesight challenges as she navigated her world with relative ease. Looking into her eyeballs, however, the evidence was most certainly clear: massive cataracts deep inside.
We believe she had some amount of peripheral vision around those growths. As a result she developed a characteristic bobbing of her head as she worked to form a complete picture from the partial, peripheral information. Even when her head was at rest the eyeballs themselves would bobble up and down if she was looking at something (and yes, that took a little getting used to). Naturally we called her our "bobble-head".
Helen came to us at the age of two, somewhat by accident. Her breeder was heading out to a show, had a car-full of dogs already and was concerned that Helen would be miserable if left behind. We offered to take her for a few days.
"A few days" became eleven and a half years as Helen walked in like she owned the place and promptly became our third Corgi.
Helen joined our first Corgi, Vera, and Guido, and we gave them the collective title of The Woodinville Ground Crew.
As she aged, Helen's life turned out to have more than its fair share of challenges:
* Mostly blind since birth
* Inflammatory Bowel Disease (IBD)
* Age-related Arthritis
* Intervertebral Disk Disease (IVDD)
* Suspected Degnerative Myelopathy (DM) (She tested as "At Risk".)
* Cushings Disease
* Age-related (and perhaps occasionally selective) Deafness
I'd sometime rattle off parts of that list and joke "that's why we call her Lucky".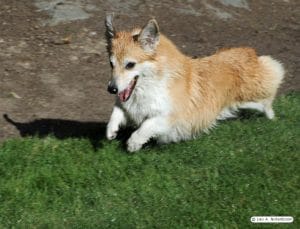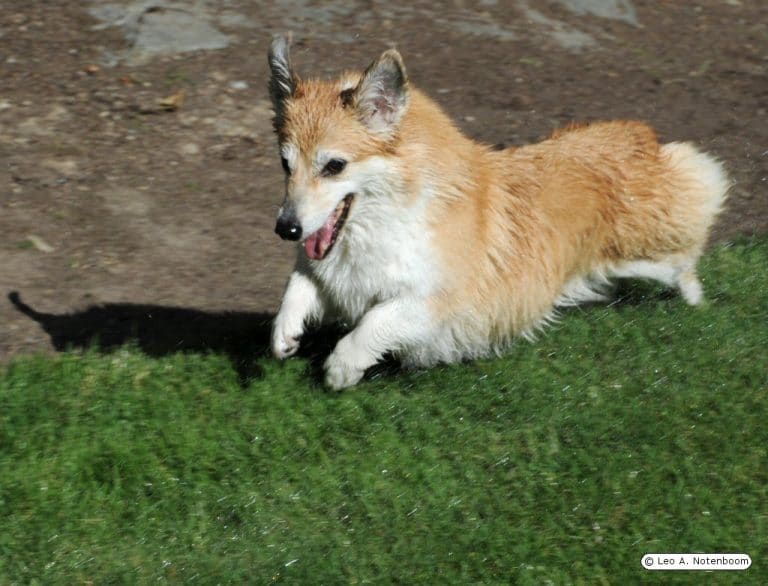 What's remarkable is that even with that long list of "adversities", her spirit didn't flag. In fact, she was a happy, active and very opinionated dog. When Vera passed it was Helen who assumed the role of Alpha among our dogs. When someone knocked at the door it was Helen's "armor-piercing bullet-barks" that would alert us to the event (or just let us know that dinner was late).
Her inability to see clearly didn't stop her from being an active, and vocal, part of the action when in good weather we'd break out the hose and let the dogs chase after the stream. It became apparent that in addition to whatever she could see, she was also following the other dogs and using them as cues. And just as with the other dogs it was one of her most loved activities.
It also didn't stop her from being downright fearless in her approach to life. Very little got in her way.
It was Helen who caught a Quail in our back yard … in a bush, at night. When you think about it makes sense that daylight might not be as important when poor eyesight has caused other senses to become more attuned. Helen's also the one that dispatched the neighbor's elderly rabbit who made an unfortunate choice to visit our backyard. (We're still not sure if she stumbled across the rabbit, or sniffed it out and tracked it down … both are equally likely.)
And when disability reared its ugly head, it was Helen who showed us what it meant to simply accept your lot and move on.
The video at the right shows some of the characteristic movements of a dog in the early stages of this type of problem (be it IVDD or DM). It also shows Helen taking to the cart with ease. (Additional videos: literally her very first time in the cart, and roughly a year later, showing both the progression of the disease, as well as Helen's continued, and vocal, passion for the hose … in her cart.)
As her mobility issues increased her two-wheeled cart became a four wheeled, and finally for most of the last year of her life she was completely immobile on her own. She became our carry-around dog, as well as spending time in her red wagon and occasionally the stroller.
In her final couple of months it was Helen's happiness that increasingly began to elude both her and us, be it from finally becoming frustrated with her lot, some additional undiagnosed ailments or something else. Try as she might, she couldn't tell us, all we knew is that she had reached a point where she was either sleeping, eating or unhappy about something.
Helen's journey ended November 3rd, 2012. She was just over 13 and a half.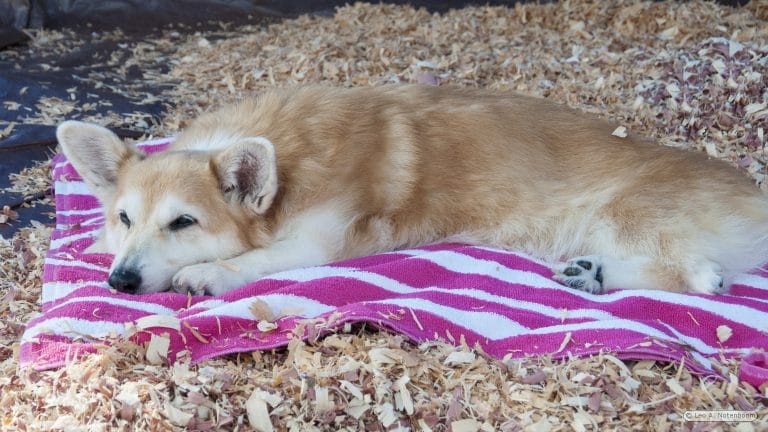 I sometimes try to think about the spirits that enter and leave our lives and the challenges that we're given, and I ask myself "what is it I'm supposed to learn from this?".
What was Helen sent here to teach me?
I don't know the specific answer – perhaps it has yet to become apparent – but I can share a few thoughts…
On the practical, care-giving side of things we'd already learned much about caring for dogs that can't walk with Guido, but Helen added to our knowledge. We learned that pet-sized air mattresses exist and that they're a good thing for an immobile animal. Sometime warm water is more palatable than cold if your dog refuses water (and low-sodium broth is often a winner if even warm water doesn't do it).
Caregivers need to be cared for. During Helen's last couple of years, and most especially her last few months, she was very high maintenance for a variety of reasons. That was hard, both physically and emotionally. Not only is it important to at least acknowledge that, but also to take steps to, somehow, care for yourself as well. And there can be no doubt, nor should there be any guilt, that this must also factor into any end of life decisions.
But perhaps Helen's biggest lesson is that it's not our abilities or lack of abilities that determine our ability to enjoy life. It's our spirit. What Helen lacked in eyesight she more than made up for in spirit.
Adversities? What adversities?
She had a wonderful life.
(There are many more pictures of Helen here.)