Dagmar (Windshyre's Winter Shadows)
2004-2017
Dagmar was our first Cardigan Welsh Corgi – "the Corgi with a tail".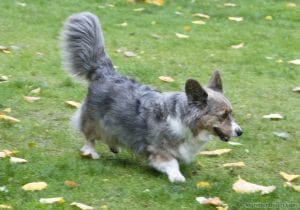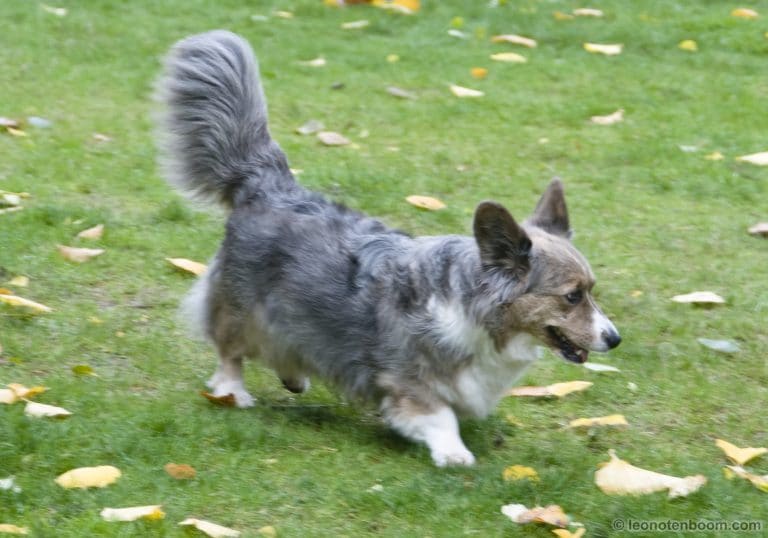 And what a tail it was! While genetically not a "fluffy", Dagmar was blessed with a particularly luxurious coat that gave her long flowing feathers and and a flag-like tail.
We'd actually met Dagmar in 2007 on one of our regular visits to the breeder. She'd recently had the litter that included Chester, who'd eventually come to live with us as well.
In 2009, a couple of months after we lost Jerome, we became Dagmar's people. When she arrived she took a day or two to be convinced that we weren't going to kill her, but quickly became heir-apparent to Helen's nominal position as leader of our little pack.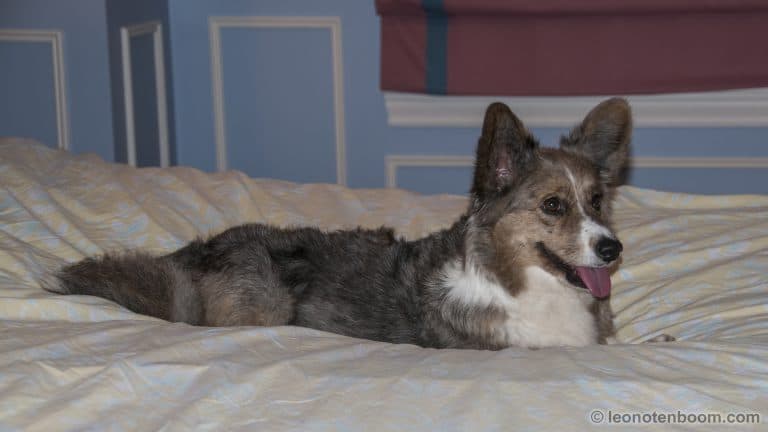 Dagmar and Sammie, our Pembroke Welsh Corgi, became good buds, and would occasionally engage in a chase-and-tussle. It was always fun to watch, and highlighted Daggie's flowing coat as she ran. One of my favorite examples happened during one of our outings to Pacific Beach State Park, complete with "surprise" ending:
As Dagmar got older she became more vocal — letting us know when dinner was late, when after-dinner treats were late, when bedtime snacks were late, and of course when Chester was getting too close to dinner, treats, or snacks.
Dagmar was diagnosed with lymphoma on November 17th, 2015. We opted for chemotherapy without hesitation. With excellent care from Dr. Chelsea Tripp of BARC the cancer went into remission almost immediately, and stayed there for nearly two years. Aside from one "near death experience" due to an error at a local veterinary ER, and the typical short term reaction to some of the cancer drugs, she did great that entire time. She was her usual vocal and active self. You'd never know she had cancer.
That the remission lasted as long as it did we consider a gift. It allowed us to take her camping again more times than we honestly expected. She presided over two more Corgi picnics. She also got some more romps in the snow (a winter time favorite), and to be "hosed" (a favorite summer-time activity) for two more seasons.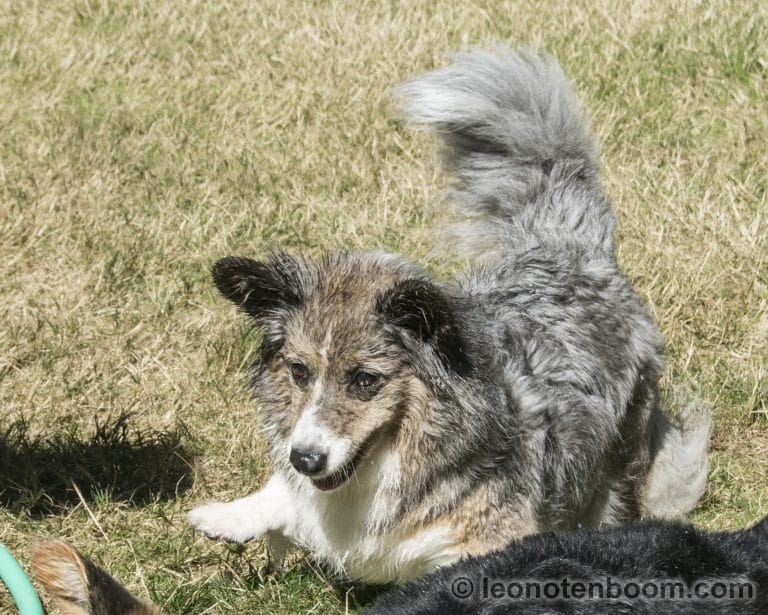 We remarked more than once that each day with Dagmar was a gift, and that at the outset we never dared dream that she'd still be here two years later.
All journeys must end, and so it is with Dagmar's.
In her later months she had become slightly more picky with respect to her food. This is an apparently common side-effect of chemotherapy. We compensated and worked to cater to her wishes as best we could. When she really stopped eating, though — turning her nose up at quite literally everything, including water — we knew something was wrong. Phone consultations, a vet visit, blood work — nothing appeared horribly out of whack. Yet she continued to decline.
After a Sunday run to the veterinary ER(*) after a spike in temperature, updated blood work showed a rapid decline. The diagnosis was essentially septic shock from unknown causes — at this point there were several potential candidates — and ileum. The prognosis, even with agressive treatment, was poor, so on November 19, 2017 we made the dreaded decision.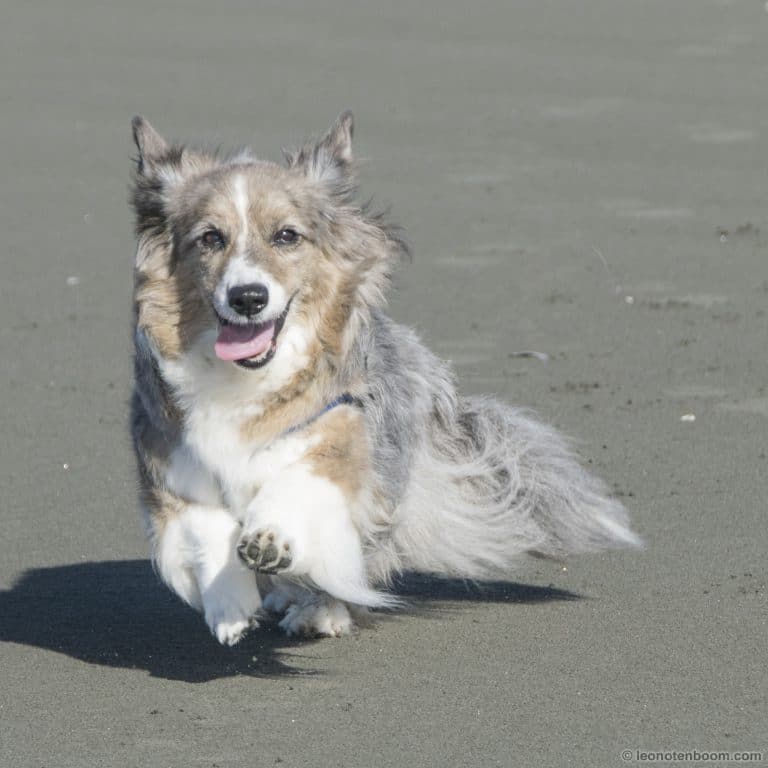 We are forever grateful to Kathi, our breeder, for entrusting us with Dagmar's care for these last 8 years.
We're deeply grateful to Dr. Guidry, our veterinarian, for helping us with that care.
And we're particularly grateful to Dr. Chelsea Tripp and the entire staff of BARC for the additional two years with our girl. Every day was a gift.
♥
You can find many more photos of Dagmar here.
♥
Update 12/23/2017
Two post-Dagmar gifts we received for which we are very grateful.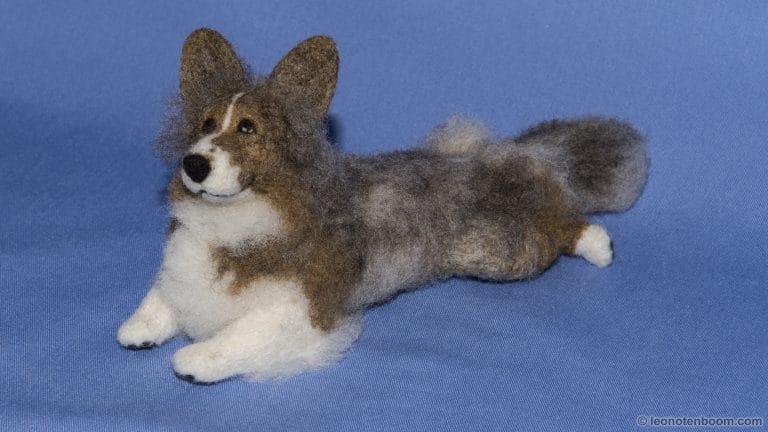 A dear friend commissioned a wool felt Dagmar from Fiber Friends – she's also currently on their portfolio page.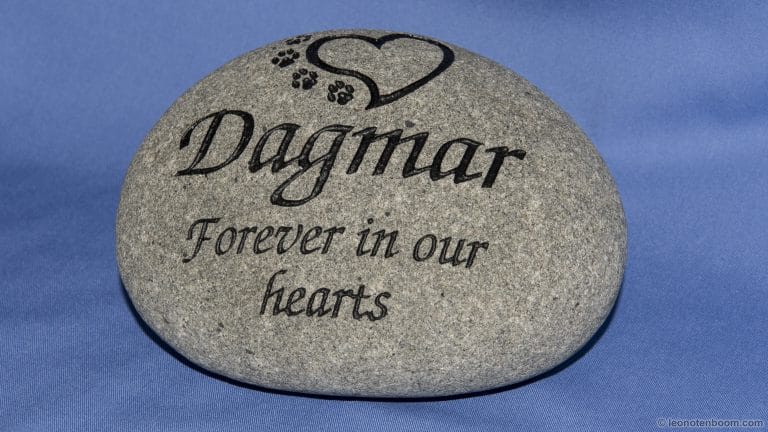 The wonderful memorial stone is from APetMemorial.com courtesy of Dagmar's oncologist at Veterinary Cancer Specialty Care at Bridge Animal Referral Center.
Both are lovely ways to remember a special girl.
---
(*) A different one than that involved in her "incident" two years prior. We were very pleased with how this ER treated her, and us.